We are honored to serve an inclusive community of patients with life-altering conditions of blindness and families, who inspire us to strive for cures and better treatments for their conditions. All are welcome at Otsukyo Nakata Ganka.
Isao Nakata, MD, PhD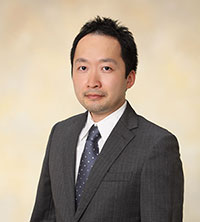 Dr. Isao Nakata is a director at Otsukyo Nakata Ganka. He is an ophthalmologist with clinical expertise in the surgical and medical management of vitreoretinal diseases, including age-related macular degeneration (AMD), retinal detachment, and diabetic retinopathy, as well as other general eye diseases such as cataract and glaucoma.
Dr. Nakata received his medical training at Mie University Faculty of Medicine. He deepened his knowledge of the eye as a resident in the Kyoto University Hospital, and subsequently, as a doctor at Japanese Red Cross Wakayama Medical Center and Japanese Red Cross Otsu Hospital.
As a clinician scientist, Dr. Nakata earned PhD degree in Kyoto University Graduate School of Medicine, investigating genetic risk factors associated with AMD and high myopia as a means to understand the mechanisms that cause the disease and further refine and advance therapies.
From 2013 to 2016, Dr. Nakata worked as a senior research fellow in Massachusetts Eye and Ear/Harvard Medical School in Boston, USA. He studied the genetics of primary optic neuropathy in Dr. Janey Wiggs laboratory, where patients are tested for mutations in genes that can cause inherited retinal disorders, early-onset glaucoma or primary optic neuropathy.
As recognition for his contributions to the field of ophthalmology, Dr. Nakata has received several honors and awards, including Postdoctoral Fellowships for Research Abroad (JSPS, 2014-) and MEEI/BLJ Vitreo-Retina Research Fellowship (Baush-Lomb, 2013).